Trusted Spotter Network Austria
Trusted Spotter Network Austria - detailed information

Trusted Spotter – Specialists among spotters and chasers in Austria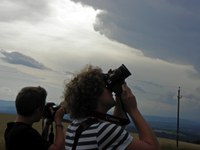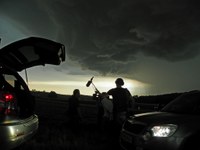 SKYWARN Storm Chasers in action (Courtesy of SKYWARN AUSTRIA)
So-called "trusted spotters" – as the name implies spotters with a special status - play a significant role in forecasting. On a voluntary basis they are contributing reports of significant or severe weather as well as accompanied damages to the ESWD. Their reports satisfy high quality demands and are provided according to strict guidelines. Thus, the ZAMG offers an extensive educational program to enable spotters for the successful accomplishment of these specific requirements. The ESWD provides the interface between Trusted Spotters and forecasters, enabling meteorologists to rely on information in near real-time.
Formerly, severe weather reports were submitted to ZAMG with limited usability either for immediate response by the forecaster or subsequent thorough analysis of the respective event. Moreover, the reliability of the information given by the Spotter suffered from the anonymity of these reports. Therefore, the Trusted Spotter Network Austria TSN was established in order to avoid such obstacles and to serve the purpose of a reliable network between spotters (chasers), operational forecasters and scientists.

Full support from ZAMG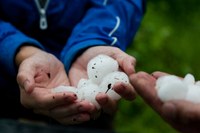 Damage assessment and job shadowing visit of an aspiring Trusted Spotter at ZAMG regional centre Vienna (Source SKYWARN)
After the institutionalization of TSN, the reliability of the information for operational forecasters improved significantly. To sustain these high quality demands of the network, ZAMG offers an individual training program, regular workshops as well as professional and scientific support for all members. This program for collaborating TSN spotters and storm-chasers seems to be the most sophisticated among European national weather services.
The programme is composed of two components:
The first component of the individual training activity consists of job-shadowing at ZAMG. This part is provided personally by forecasters of every regional centre of ZAMG in Austria and is based ona standardized procedure. The focus is set on the comprehension and the practical application of the respective event types according to ESWD standards.
The second component of the training involves up to three annual workshops which will take place at ZAMG regional centres, in Vienna, Graz and Salzburg, respectively. In addition to presentations from spotters and scientists, all participants have the opportunity to engage in deepened discussions of meteorological phenomena as well as case studies.
Both training components are mandatory for fully licenced trusted spotters and must be completed successfully at least once by each individual TSN member. Further, all members are invited to refresh their knowledge annually, even after the completion of the licencing programme.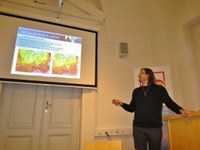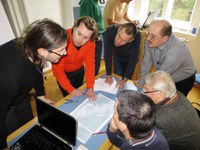 Presentations and scientific workshops are fundamental for the completion of the TSN training (Source ZAMG)
International standards for severe weather reports: collaboration with the European Severe Storms Laboratory ESSL
A basic motivation for establishing the TSN was the integration of Austrian national spotter information within the European-wideESWD database. For the benefit of comparability across national boundaries, the reports have to follow the ESWD data format as well as parameter guidelines and thresholds like wind speed or precipitation amounts.
See also https://www.eswd.eu/docs/ESWD_criteria_en.pdf.
These guidelines are subject to continuously renewed scientific findings within the framework of ESSL and partner organizations.
ESWD, provided by the ESSL, is a database of a rapidly growing number of severe weather reports for Europe and the Mediterranean Region (Holzer, et al., 2009). Initially, only severe convective weather events like i.e. tornadoes, large hail and heavy precipitation have been stored within the data base. In a next step, new event types have been implemented which extend to non-convective severe weather events throughout all seasons, including event types from the winter season like heavy snowfall or its accumulations, icing and avalanches. Finally, lightning damage was also added as an event type.
The main task of ESWD is to collect detailed and high quality information on these extreme weather events. The ESWD data base is generally open to public reports including date, location, type of event and additional information (e.g. intensity and type of damage). Because of the individual training efforts, reports from a trusted spotter within the ESWD will also receive a higher quality label than those from the general public. The reports can be filed to the database independently from the time of occurrence of the event. The uniform data format is valid for all European reports and the web based freely accessible user interface (www.eswd.eu).
Since not all of the meso- and small scale damage-producing-events can be observed by the national weather- and climate station networks, the increased recognition and reporting efficiency from the Trusted Spotter Network and thus from ESWD, offers additional sources for the operational recognition as well as the climatological analysis of extreme weather events all over Europe.
ESWD reports are used for scientific analysis more and more frequently, different levels of quality criteria maintain those efforts:
A report given from the general public will be marked with QC0 ("as received"). At this level usually no quality control from ESSL or other organizations is done. A QC0+ report is usually given by a member of a national spotter organization like SKYWARN and hence is categorized with "plausibility check passed". A "confirmed report" will receive QC1, usually resulting from thorough quality control by ESSL and a trusted spotter, respectively. If an event is "fully verified" at QC2, it is done so by i.e. a national weather service or a scientific case study (Groenemeijer et al., 2011).
To accomplish the highest possible standard for ESWD reports, a trusted spotter is only allowed to give information from personal experience and observation. Secondary or forwarded information, even from other trusted spotters should be excluded at this quality level. Considering this and the completed training, reports from "trusted spotters" are therefore accepted by ESWD with the higher QC1 clearance.
Further, the activity of a "trusted spotter" is supported by real time weather information from ZAMG, easily accessible via the internet. Satellite imagery and relevant nowcasting data from more than 250 automatic Austrian weather stations as well as short range model data are available. In this regard, the spotters and chasers of TSN are provided with crucial weather information during their observations.
On the other hand, a ZAMG forecaster is now able to display TSN reports in near real time within the population of all ESWD data base reports, which can be filtered according to time and quality clearance.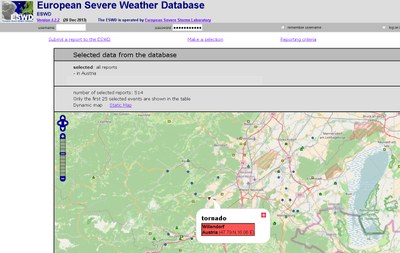 ESWD real time visualisation platform of reports.
Professional public relations in near real time

METEOPICS (www.tsn.meteopics.eu) operates a sub domain of its homepage specifically designed for contributions from the TSN as an international public image pool and data base with reviewed contributions from the trusted spotter network.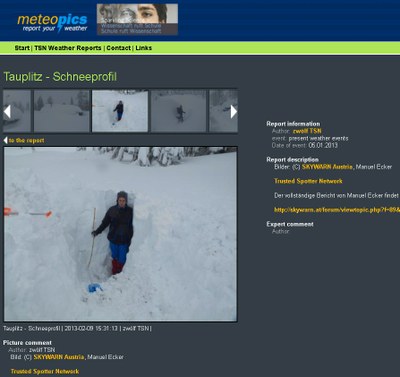 Detail from the METEOPICS image platform
In order to use available potential for further collaboration between ZAMG and Skywarn Austria a joint web page for extreme weather reports is available at the ZAMG homepage (http://www.zamg.ac.at/cms/de/aktuell/ihre-unwettermeldung). This way, ESWD criteria are now also valid for reports from the general public. The reports submitted via ZAMG Homepage will be automatically directed to the ESWD where they will be marked with QC0 ("report submitted").
As a result of this collaboration, the operational forecaster at ZAMG is potentially able to use additional and reliable information in near real time to evaluate and verify warnings during severe weather periods. This advantage enables a forecaster to conduct further adjustments to warnings and use reliable and trusted information for the communication with e.g. civil authorities.
Given the severity and societal impact of severe weather, the network enables joint case studies in cooperation with all partners which can be released to the public without significant delay.


Credits:
Pieter Groenemeijer, Director of the European Severe Storms Laboratory, ESSL:
Reports from voluntary spotters in ESWD allow real time utilization at the forecast office at ZAMG for warnings and nowcasting. Also, these reports can be used worldwide for scientific studies. TSN Austria provides an unrivalled paradigm in Europe, ESSL hopes for followers among other European countries.
Mathias Stampfl, Chairman of SKYWARN Austria:
This unique collaboration between a national weather service and a non-profit spotter organization, between professional meteorologists and volunteer spotters, is a big step towards a modern understanding of operational meteorology.
Michael Staudinger, Director of ZAMG:
TSN represents a win-win situation for all involved parties: public weather warnings are a legislative task of ZAMG, therefore, any additional information about the current weather situation is of imminent value for the forecaster. METEOPICS supports communication and outreach towards the public. Due to the specific spotter training from ZAMG, the number of reliable extreme weather reports within ESWD is constantly growing. Last but not least, the involvement of ZAMG regional centres in the network increases the benefit from local weather expertise.
Contacts and addresses:
ESSL
Alois Martin Holzer
alois.holzer@essl.org
SKYWARN AUSTRIA
Mathias Stampfl
mathias.stampfl@skywarn.at
METEOPICS
ZAMG - Zentralanstalt für Meteorologie und Geodynamik
Division Customer Service Salzburg
TRUSTED SPOTTER NETWORK AUSTRIA / ZAMG
Thomas Krennert, project lead
Weather, Division Customer Service
ZAMG - Zentralanstalt für Meteorologie und Geodynamik
+43 1 36026 2309
©ZAMG: 170413