TSN Austria - Mainpage
Trusted Spotter Network Austria - Main Page test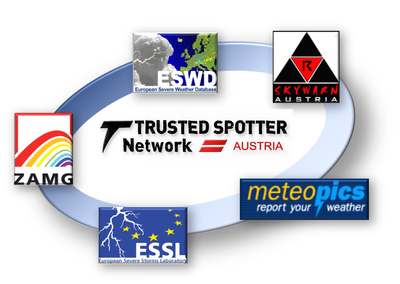 The TRUSTED SPOTTER NETWORK AUSTRIA TSN, in its current state constitutes the collaboration between:
ZAMG Central Institute for Meteorology and Geodynamics (www.zamg.ac.at), the Austrian meteorological service,
SKYWARN AUSTRIA (www.skywarn.at), and
ESSL (www.essl.org), the European Severe Storms Laboratory and the European Severe Weather Database ESWD (www.eswd.eu).
METEOPICS (www.meteopics.eu) provides a public forum for images of severe weather and damage surveys as a further partner of the network.
Trusted Spotter – Specialists among spotters and chasers in Austria
So-called "trusted spotters" - as the name implies spotters with a special status - play an important role in weather forecasting and warning activities of ZAMG. They are working on a voluntary basis with the purpose of contributing reports of significant or severe weather as well as accompanied damages to the ESWD. Their reports satisfy high quality demands andare provided according to strict guidelines. Thus, the ZAMG offers an extensive educational program to enable spotters for the successful accomplishment of these specific requirements. The ESWD provides the interface between Trusted Spotters and forecasters, enabling meteorologists to rely on information in near real-time.