Seismic Network of Austria
Monitoring seismic tremors in Austria and worldwide is one of the main objectives of the department. The network forms part of various international virtual networks and submits data to international data centres and to all neighbouring countries.
Seismic Network of Austria © ZAMG
Current seismic stations are equipped with STS-2 broadband sensors, which enable us to record remote earthquakes down to a magnitude of 5. Those sensors have been in installed near Molln (Upper Austria), in Arzberg (Styria), at the Kölnbrein barrage, Bad Bleiberg and Hochobir in Carinthia, in Damüls in Vorarlberg, and near Wattenberg, Feichten and Reutte in Tyrol. In addition, in 2002 the Conrad Observatory at the Trafelberg near Muggendorf in Lower Austria was inaugurated. More stations are planned to enhance the sensitivity and range of the network.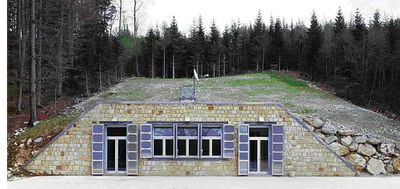 Conrad Observatory © ZAMG Geophysics
In Vienna six strong-motion stations are in operation, which serve to record ground motions in built-up areas. Other similar stations are installed in Wiener Neustadt, 40 km south of Vienna, Feldkirch in Vorarlberg, Innsbruck and Schwaz in Tyrol, Klagenfurt and Koralpe in Carinthia, Kindberg, Obdacher Sattel and Admont in Styria, and Schwadorf in Lower Austria.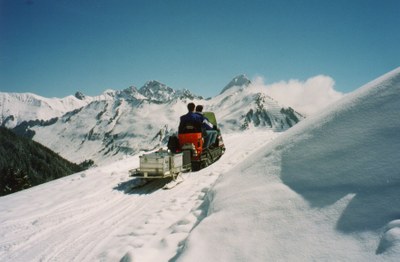 on the way to station DAVA in Vorarlberg © ZAMG Geophysics
Broadband station CONA © ZAMG Geophysics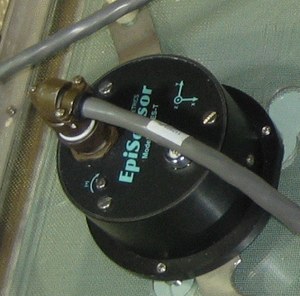 Strong motion station CONA © ZAMG
| | | | | | |
| --- | --- | --- | --- | --- | --- |
| Station Name | Station Code | Latitude (North) | Longitude (East) | Altitude (m) | Sensor |
| Abfaltersbach | ABTA | 46,7474 | 12,5123 | 1093 | STS-2 |
| Arzberg | ARSA | 47,2505 | 15,5232 | 577 | STS-2 |
| Conrad Observatory | CONA | 47,9282 | 15,8618 | 1046 | STS-2 |
| Damuels | DAVA | 47,2867 | 9,8803 | 1602 | STS-2 |
| Feichten | FETA | 47,0211 | 10,7291 | 1683 | STS-2 |
| Koelnbrein | KBA | 47,078 | 13,345 | 1721 | STS-2 |
| Molln | MOA | 47,8495 | 14,2659 | 572 | STS-2 |
| Moosalm | MOTA | 47,3448 | 11,1037 | 1575 | STS-2 |
| Terra Mystica | MYKA | 46,6299 | 13,6416 | 909 | STS-2 |
| Hochobir | OBKA | 46,509 | 14,549 | 1075 | STS-2 |
| Reutte | RETA | 47,4871 | 10,7623 | 1014 | STS-2 |
| Soboth | SOKA | 46,678 | 15,0327 | 1085 | STS-2 |
| St.Quirin | SQTA | 47,2205 | 11,2087 | 1307 | STS-2,5 |
| Walderalm | WATA | 47,3357 | 11,5763 | 1492 | STS-2 |
| Wattenberg | WTTA | 47,264 | 11,636 | 1764 | STS-2, S13 |