12 MARCH 1996 - INTRODUCTION AND SHORT CASE DESCRIPTION
by ZAMG
---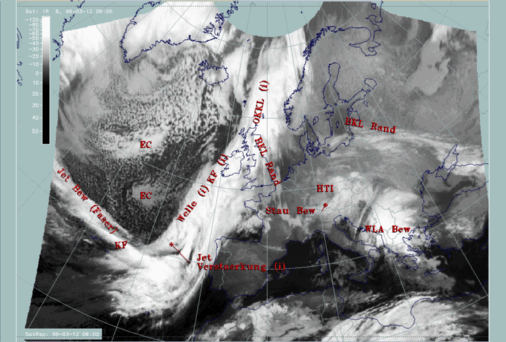 This case is dominated by a pronounced cloud band stretching from the Atlantic west of Portugal across the British Isles and further northwards to the Norwegian coast. At first sight it can be regarded as a Cold Front (abbreviation "KF"), but on closer inspection a number of substructures come to one's eyes.
There is a bulge in the cloudiness south-west of Ireland (around 49N/15W) which may be indicative of a Wave ("Welle") centred immediately south of it.
A very intensive feature is a narrow fibrous cloud band along 40N crossing the frontal cloud band almost perpendicularly; such a structure is indicative of a jet streak ("Jet Bew (Faser)") (compare Conceptual Models: Jet Cloudiness (Fibre) ).
Cellular textured cloudiness within the Cold Front cloud band can be noticed immediately south of the Wave where the cloud fibre crosses the Cold Front band. Such a situation would be typical for an intensification of the frontal system by means of a jet streak crossing ("Jet Verstaerkung") (compare Conceptual Models: Front Intensification by Jet Crossing ).
There is a cloud band structure with much warmer cloud tops, situated on the leading edge of the main cloud band. It reaches from south-east England south-eastwards into France and western Germany where it is connected with a spirally structured cloud system representing an upper level low (the band feature discussed here is named "BKL Rand") (compare Conceptual Models: Baroclinic Boundary ).
In the cold air over the Atlantic behind the Cold Front, intensive cellular cloudiness can be noticed with some areas of Enhanced Cumuli, especially around 52N/27W, and another one with much warmer tops around 46N/24W ("EC").
In this part of the study the Cold Front as a whole, the cloud band connected to the Upper Level Low and the Enhanced Cumuli are discussed, while the Wave and the intensification by a "jet streak crossing" will be discussed in the special investigation of this case study.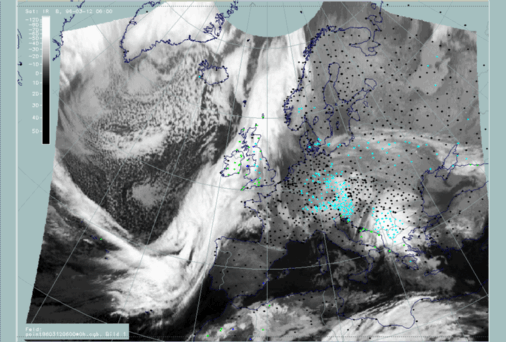 The demonstration of the weather intensity of the features under discussion is hindered by the fact that nearly all the cloud structures are located over the sea. Only the north-westernmost corner of Spain, Brittany and the British Isles can supply weather reports. From these it can be concluded that, except for a small stripe close to the leading edge of the cloud band, the rest of it is almost completely accompanied by precipitation. Increased weather events in the critical areas of the conceptual models "Wave" and "Front Intensification by Jet Crossing" compared to the surroundings cannot be observed because of their location over the sea.