POLAR LOW - KEY PARAMETERS
by KNMI
---
In this chapter statistical analyses of most of the key parameters are included. These analyses are based on approximately 25 cases. Each graphic shows the average, standard deviation and total distribution of a key parameter in the developing (dev.), mature (mat.) and decaying (dec.) phase.
1000 hPa and 500 hPa topography
A Polar Low normally starts to develop in the synoptic situation where there is a surface trough ahead of a trough at 500 hPa height contours. In its mature phase a closed circular isobaric pattern is often present, although if the background flow is too strong, no closed circular isobaric pattern will develop.
Surface wind speed (> 27 knots/14 m/s or >= 7 bft)
By definition Polar Lows are accompanied by fields of strong winds with velocities exceeding 27kt/14 m/s. The strongest winds are normally to be found at the position where the relative motion of the polar low is in the same direction as the actual wind.
Positive Relative Vorticity Advection (PVA) at 500 hPa
A maximum in PVA at 500 hPa is often superimposed over the area of an initial Polar Low ahead of a trough at 500 hPa. The statistical analysis shows the highest value of PVA normally occurs in the developing phase and gradually decreases in the following phases. Finally in the decaying phase the value is almost zero or may even be negative.
Potential Vorticity
A maximum of PV is sometimes an important feature in the development of a Polar Low. The maximum value of PV at a suitable isentropic level is normally larger than 5 PVU and covers a small area. During the developing phase this area is situated upstream of the developing Polar Low.
Temperature at 500 hPa (T500 < -40°C)
Deep convection is indicative of a Polar Low. This deep convection is caused by very cold arctic air overrunning relatively warm sea. At 500 hPa this air more or less keeps its original temperature. From the statistical analysis and the literature a temperature of -40°C or less at 500 hPa (T500=< 40°C) is a good threshold value for the triggering of Polar Low development.
Instability index - Boyden
From statistical analysis it follows that a useful stability parameter here is the Boyden index. Although this index is not developed for high latitudes and the winter season almost all cases show a Boyden index higher than 94 in the region of a (potential) Polar Low. This threshold value indicates a high chance of heavy showers.
Vertical Motion (Omega) 850 hPa
Because of unstable conditions and upper level forcing mechanisms, vigorous ascending motion could develop. As a result of a low tropopause, the ascending motion is present in a relatively shallow layer, making omega at 850 hPa more indicative than omega at 500 hPa.
During the development phase the enhanced cloud band is characterized by a negative omega with a relative minimum at the position of the developing Polar Low. This minimum expands and finally, in the mature stage, a cut-off minimum is present surrounded by a band of descending air with positive omega values.
1000 hPa and 500 hPa topography
Initial phase:
| | |
| --- | --- |
| | 23 February 2001/00.00 UTC - Meteosat IR image; magenta: surface isobars, blue: height contours 500 hPa |
| | |
Mature phase:
| | |
| --- | --- |
| | 23 February 2001/05.54 UTC - NOAA CH4 image; magenta: surface isobars, blue: height contours 500 hPa |
| | |
Surface wind speed (> 27 knots/14 m/s or >= 7 bft)
| | |
| --- | --- |
| | 23 February 2001/05.54 UTC - NOAA CH4 image; magenta: surface isotachs in knots. A mature polar low north of Scotland |
| | |
Positive vorticity advection (PVA) at 500 hPa
| | |
| --- | --- |
| | 05 February 2001/18.00 UTC - Meteosat IR image; green: positive vorticity advection (PVA) 500 hPa, blue: height contours 500 hPa. A developing Polar Low west of Norway |
| | |
Statistical analysis PVA 500 hPa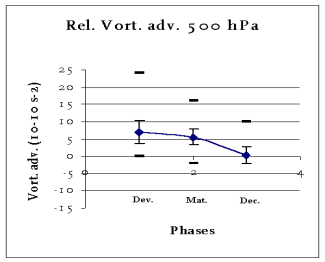 Potential Vorticity
| | |
| --- | --- |
| | 23 February 2001/05.54 UTC - NOAA CH4 image; magenta: potential vorticity 303K > 2 PV units. A developing Polar Low just north-east of Scotland |
| | |
Temperature at 500 hPa (T500 < -40°C)
| | |
| --- | --- |
| | 23 February 2001/05.54 UTC - NOAA CH4 image; magenta: potential vorticity 303K > 2 PV units. A developing Polar Low just north-east of Scotland |
| | |
Statistical analysis temperature 500 hPa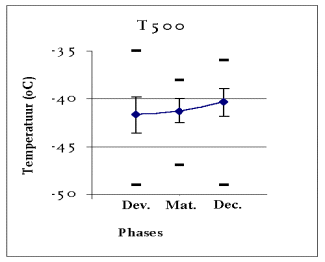 Boyden index (>95)
Statistical analysis Boyden index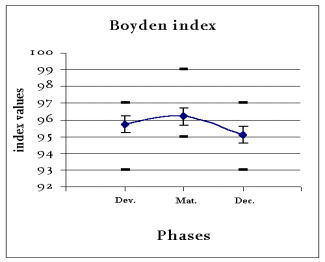 Vertical Motion (Omega) 850 hPa
| | |
| --- | --- |
| | 05 February 2001/18.00 UTC - Meteosat IR image; yellow: vertical motion (omega) 850 hPa. Developing Polar Low west of Norway |
| | |
| | |
| --- | --- |
| | 06 February 2001/06.00 UTC - Meteosat IR image; yellow: vertical motion (omega) 850 hPa. Mature Polar Low west of Norway |
| | |
Statistical analysis vertical motion (Omega) 850 hPa