BAROCLINIC BOUNDARY - WEATHER EVENTS
by ZAMG
---
In general observed precipitation is significantly weaker than in fronts, or there may be no precipitation at all.
Parameter
Description
Precipitation

No active front: large areas with no precipitation
Modification of old systems: remains of precipitation activity, light rain and drizzle
Upper Level Low: Precipitation at tear - off stage

Temperature
No connection (stationary)
Wind (incl. gusts)
No connection (stationary)
Other relevant information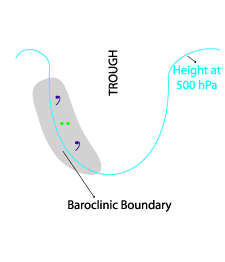 Example: To the rear of a synoptic scale trough, in the area of northern Spain and SW France.